Mantle is a set of libraries and specifications designed to enhance the performance-based Graphic Core Next architecture graphics cards. This have for example the Radeon R7 and R9 or the Kaveri processors.
To understand that it is necessary to clarify several Mantle is related to the generation of three-dimensional images on a PC gaming concepts.
How does a computer graphics system works?
Surely you've ever wondered how it is possible for a team that costs twice as a console is not able to move games as smooth as this?
Moreover, sometimes we are comparing consoles three or four years, which in the technological world is outrageous, with newly released PCs and still have to have a high-end to get close.
The answer is simple, the problem is not the hardware but the software running on these machines.
The PC world is completely different from the consoles, here you can find several manufacturers of graphics cards, motherboards and processors unlike the case when you think about creating a game for Xbox or Play Station.
Furthermore, not only we talk about different manufacturers but also the game has to be able to run on hardware from different eras. Think that can mean hundreds of models of different cards.
To achieve this it is necessary to put several layers one above the other software on the hardware. That is the one who creates the game does for the PC platform and not thinking that will run on a graphics card AMD or nVidia.
Specifically you can generally find the following levels:
Driver. Created by the manufacturer that sells you the graphics card, it is a program that is responsible for providing a range of services that are used by the operating system. This always loaded into RAM from your computer.
Direct X. The party responsible for the entire treatment for generating three-dimensional images within the library is Direct X Direct 3D.
This library is supported and developed by Microsoft and is capable of creating that abstraction, ie it allows programmers do not have to worry about the hardware.
Regarding this library can put a lot of complaints, but the truth is that it does an amazing job being able to hide all the complexity of game designers. The problem is that this abstraction always causes falls not desirable performance in such programs.
graphics engine. This layer is optional. The major studios creating video games sometimes create engines, ie a set of libraries that can be used to create a variety of games. In this way it simplifies the development of these programs and makes designers who are responsible for creating them can take care of aspects such as the graphics or artificial intelligence engine leaving the three-dimensional representation.
So what's Mantle?
It is a technology that AMD wants to remove all this network complexity to achieve higher yields. Specifically remove and simplify the Direct 3D graphics card driver exposing programmers.
I would not touch the graphics engine, but is that whatever is on Mantle must be rewritten completely.
Specifically for now we would try to:
Memory usage. If you want to use now the memory of your graphics card, for example to load a texture or image you have to ask to Direct X. This stays with that memory and is responsible for distributing between applications and also free. This whole process makes the accesses are much slower than if there were not all that control. Mantle it off and let it be the programmer to be responsible for releasing the memory or do whatever you want.
Job Control. Today when you want to convert the data card of a model in a graphic you send it as work. Normally you do this as if you worked with a black box in which you put your data, your commands, and wait for the end. It is done sequentially, ie is commanded one thing at a time, it does not take into account that this device can work with several jobs at the same time. With Mantle it is not exactly true, you send something to a subsystem within the card but can resend another to another subsystem even if they had not finished their work done.
This can be transferred to the use of multiple cards in a single computer. Today if you have totally different performance devices can happen that a finished waiting for the other reducing the number of frames that are capable of generating. Now you are where you decide how to divide the work between them.
Using multicore processors. Processors having more than one core inside are underused in over 80% of the games. Mantle wants to end this. Moreover in most have more than four does not mean higher performance.
In the same way you can send a job to a specific card you want to do the same to allow the core processor itself. In this way you can put all the elements of your PC at a time.
What can bring this new technology?
This allows more detailed games, use more complex textures, more details. Best minds of the enemies.
And it would be ideal if it were able to take us to the world of consoles in the sense that you buy and install a game you know that you or get an acceptable quality without having to worry about the hardware.
What are the disadvantages?
Unfortunately has more disadvantages than would be desirable. Among other:
It has to be supported by the game. You can not get a current and pass it without performing a job Mantle above. In addition to take advantage of much work it is needed. You can do wonders but have to be programmers who make them.
Designers also have to make a Direct 3D version and Mantle.
It only works on GCN. This limited at least for now to architecture Graphics Core Next. This leaves at least half the market out of this new technology.
For now only used in Windows, will not work or Xbox or PS4.
Gallery
Delving deeper into AMD's Mantle API
Source: techreport.com
AMD Mantle: what you need to know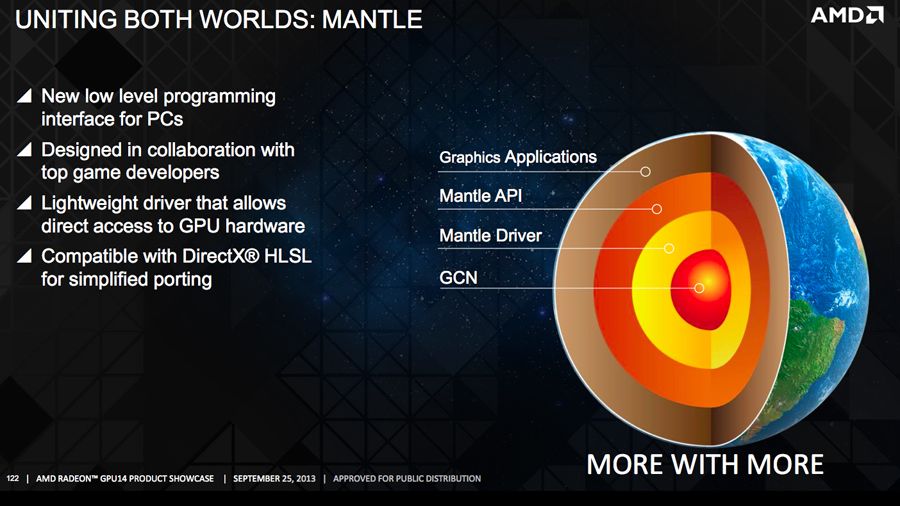 Source: www.techradar.com
AMD Is Looking To Transform The World Of Game Development …
Source: inventorspot.com
AMD reveals Civilization: Beyond Earth game bundle, Radeon …
Source: www.pcworld.com
Microsoft hints that DirectX 12 will imitate Mantle, but …
Source: www.extremetech.com
Frostbite Mantle API To Give AMD GCN GPUs Performance …
Source: wccftech.com
AMD Launches Mantle API to Optimize GPU Performance on PCs …
Source: www.legitreviews.com
AMD Mantle
Source: www.bit-tech.net
Battlefield 4 and Frostbite 3 Will Support Both AMD Mantle …
Source: wccftech.com
AMD Mantle: what you need to know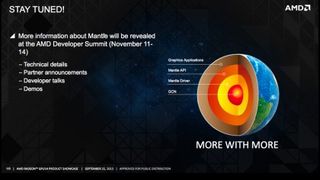 Source: www.techradar.com
Mantle: An Alternative 3D API to DirectX 11 on AMD Radeon GPUs
Source: news.softpedia.com
Mantle (API)
Source: en.wikipedia.org
AMD changes plans for public Mantle SDK, hints at …
Source: techreport.com
Could AMD's Mantle revolutionise PC gaming? • Eurogamer.net
Source: www.eurogamer.net
AMD Mantle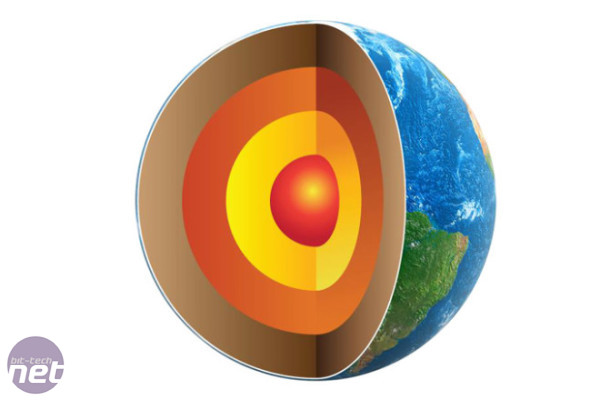 Source: www.bit-tech.net
TrueAudio: Thief and AMD's Tuscany Demo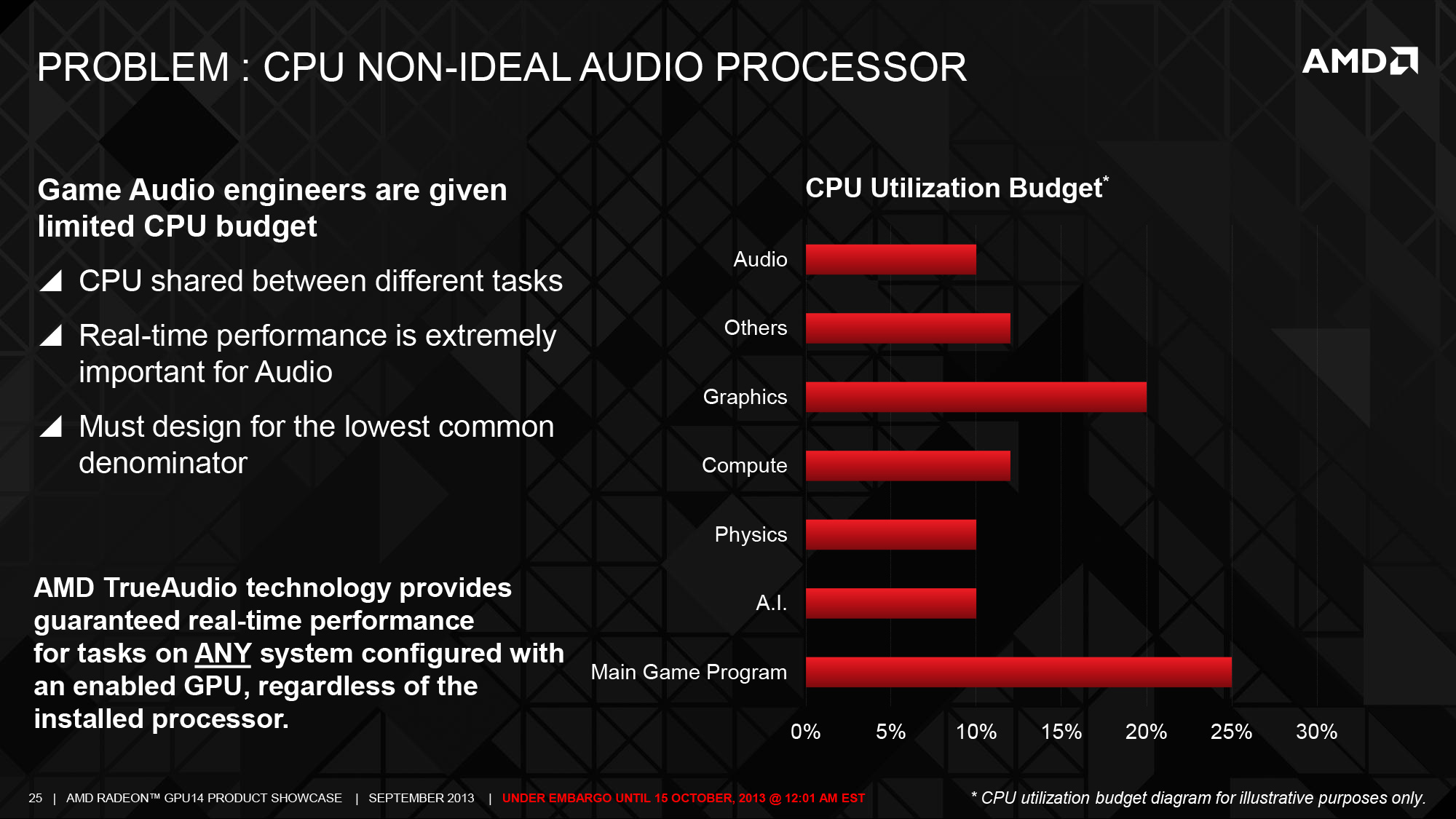 Source: www.anandtech.com
AMD unveils revolutionary 'Mantle' API to optimize GPU …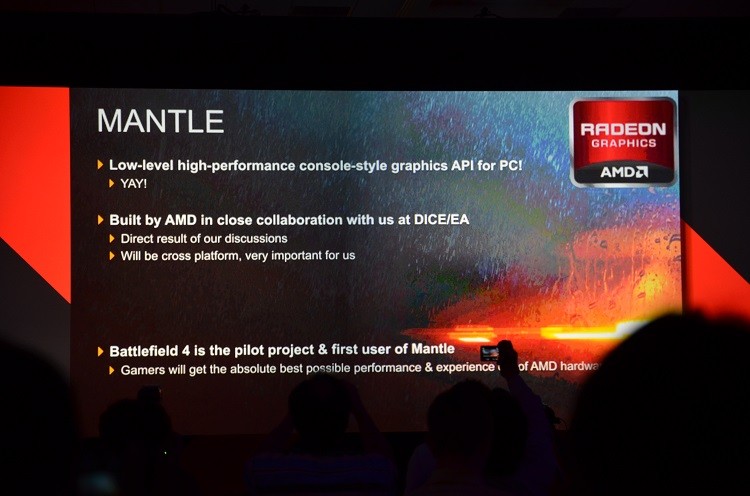 Source: www.techspot.com
AMD Kaveri APU A10-7850K Gaming and General Performance …
Source: wccftech.com
AMD's Mantle API debut postponed again as Battlefield 4 …
Source: www.extremetech.com
Microsoft: Mantle won't work on the Xbox One
Source: techreport.com